The Greatest Love of All - A Tribute to Whitney Houston - Tribute to Whitney Houston w Zabrzu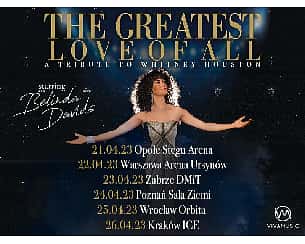 Koncert The Greatest Love of All - A Tribute to Whitney Houston - Tribute to Whitney Houston w Zabrzu
19.04.2023 19:00
The Greatest Love of All
Showtime Australia prezentuje chwalony przez krytyków koncert honorujący talent, muzykę i pamięć Whitney. Muzyczna spuścizna Whitney Houston zostaje ponownie przedstawiona w tym wspaniałym Tribute Show, często określanym jako "niesamowity", "wspaniały".
Dajcie się zaskoczyć zapierającym dech w piersiach wokalem Belindy Davids - artystki, która znalazła się na szczycie list przebojów RiSA w jej rodzinnym kraju RPA - oraz wystąpiła m.in. w programie Fox TV "Showtime at the Apollo" i Telewizji BBC1 "Jeszcze lepsza niż prawdziwa".
Przy "żywym" akompaniamencie zespołu, wokalistów wspierających i tancerzy, a także wspaniałej realizacji dźwięku i świateł, wizji i efektach teatralnych, będziecie uczestniczyć w pięknie wykonanym Tribute dla jednej z najbardziej uznanych wokalistek na świecie.
Dwugodzinne widowisko wypełni Cię radością, nostalgią i zachwytem, zabierając Cię w sentymentalną podróż przez największe przeboje Houston, w tym: "I will Always Love You", " I Wanna Dance With Somebody", "How Will I Know", "One Moment In Time", "I Have Nothing", "Run To You", "Didn't We Almost Have It All", "Greatest Love Of All", "I Am Every Woman", "Queen Of The Night", "Exhale (Shoop Shoop)", Million Dollar Bill" i wiele innych.
Widowisko Greates Love of All już zachwyciło widownię w Wielkiej Brytanii, wielu krajach Europy, Bliskim Wschodzie, Azji, RPA, Australii i Nowej Zelandii i nadal zbiera świetne recenzje na całym świecie.
To wyjątkowe, jedyne w swoim rodzaju wydarzenie koncertowe sprawia, że publiczność chce więcej i dyskutuje o nim przez długi czas.
Nie przegap szansy i weź w nim udział osobiście.


---